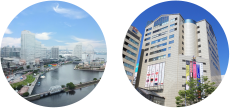 Why don't you take a walk in
KIMONO

?

Let's go shopping or eat out in Yokohama Minato Mirai 21 (Kanagawa) or Fukuoka Tenjin (Fukuoka) with KIMONO, the traditional clothes! KIMONO would be the best experience ever in JAPAN!
Package
You don't need anything but yourself! Everything is ready for you!
Close to the tourist attractions and easy to get there!
Free storage
Don't waste your money on storage.
We can store your items at the shop while you are out. (Clothes, Carry on size Bags, etc.)
*Please note: Valuable stuff (credit card, passport, cash or jewelry etc.)
or fragile items (camera, laptop, etc.) cannot be acceptable for storage.
"Tabi" for souvenir
"Tabi" is traditional socks, great match with KIMONO.
You can take "Tabi" home as a present!
(Size) Female 21cm – 26cm
    Male 25cm – 28cm
Flow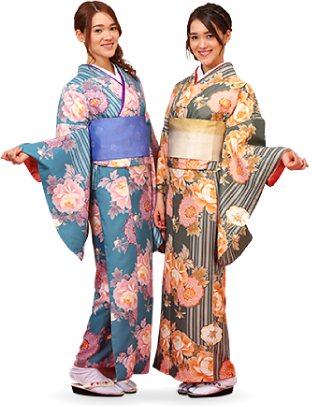 1.

Booking

Please make a booking via email or phone at least 2 days before. (If you want to book the day before or on the day, please contact us by phone)
Once your booking has been confirmed, you will receive a confirmation email.
(If you do not receive your confirmation email, please contact us by phone)


2.

Let's choose your
best match KIMONO!

Once payment has been done, it is time to choose your KIMONO. We are happy to help you find your favourite KIMONO!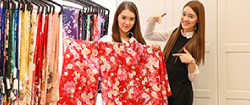 3.

Let's dress up!

Now it's time to get dressed up! Just relax. Our professional staff will dress you in KIMONO.
[Tips]
Hair styling is not included. It is better to do your hair before getting changed. Up-style is recommended and is the best match with KIMONO. If you would like us to do your hair done, please make a booking beforehand. (Optional: 4,500 yen (incl. GST))


4.

Let' go for a walk!

You are now ready to roll! Leave your stuff at the shop and let's take a walk! Why don't you go to cafés or restaurants? There are lots of places to see around!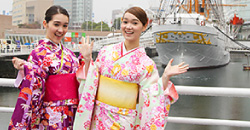 5.

Return

How was your day? Did you enjoy your KIMONO experience? Please come back before 6pm. We will help you undressed and your fantastic day is over!!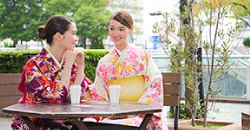 Recommended places to go
Price
KIMONO Rental
Female (1xperson)
7,500yen (incl. GST)
Couple or Friends (2xpersons)
13,000yen (incl. GST)
Options
Hair Styling
(Please make a booking at least 2 days before)
4,500yen (incl. GST)
Photo shoot

3,000yen / 1 photo (incl. GST)
15,000yen / all 30 photos data (incl. GST)
KIMONO for purchase
We have KIMONO for purchase at the shop. This KIMONO is easy to wear and you can dress yourself. It is very comfortable and also could be great souvenirs! (There are kid's sizes as well)
Reservation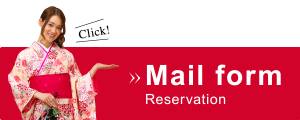 Please note
Payment can be done by credit card or cash at the shop
Cancellation fee is free up to 5pm the day before
If you make KIMONO extremely dirty, cleaning fee 3,000yen – 5,000yen will be charged
Please do not use perfume. If you do, 5,000yen will be charged to remove the smell
If KIMONO is damaged such as cigarette burn or stains, 10,000yen will be charged
If you are late to return, 1,000yen will be charged every 1hour
Information
YOKOHAMA
tel.045-306-5533
LANDMARK PLAZA 4F,
2-2-1 Minatomirai, Nishi-ku, Yokohama city, Kanagawa
FUKUOKA
tel.092-271-5554
ANEX HAKATA 1F,
10-16 Kawabata, Hakata-ku, Fukuoka